Upcoming Auditions
THANK YOU TO ALL WHO AUDITIONED FOR SLEEPING BEAUTY, THE PANTO.
IT WAS WONDERFUL TO SEE YOU AND WE APPRECIATE YOUR SUPPORT VERY MUCH.
COME OUT AND SEE THE PRODUCTION AND BE SURE TO TRY OUT AGAIN NEXT YEAR FOR A SHOW
WHAT THE HECK IS A PANTO?!
Pantomime (informally panto) is a type of musical comedy stage production designed for family entertainment. It was developed in England and is still performed throughout the United Kingdom and (to a lesser extent) in other English-speaking countries, especially during the Christmas and New Year season. It is done is Canada!
Elements of a Panto
The story. Most pantomimes are versions of children's stories. ...
The characters. One of the key characters in any pantomime is the "dame" . ...
Audience participation. ...
The jokes. ...
Singing & dancing. ...
The chase & fight scenes.
The pantomime today
Today the pantomime is traditionally performed at Christmas. It is a show for children, but grownups like it as well. Usually a well-known story is told, e.g. Cinderella, Jack and the Beanstalk, Pinocchio, The Three Little Pigs, Puss in Boots, The Musicians of Bremen, Little Red Riding Hood, Goldilocks and the Three Bears and Snow White etc. There is a lot of spoken dialogue but there are also songs, and sometimes the audience join in. There are many traditions in pantomime. These are some of the main ones:
The main young man in the play (the principal boy) may be played by a young woman.
An older woman (the pantomime dame – often the hero's mother) is usually played by a man dressed as a woman.
The audience take part (audience participation). For example, they call "look behind you!" (or "he's behind you!"), and "Oh, yes it is!" or "Oh, no it is not!" The audience is always encouraged to "Boo" the villain, and "Awwwww" the poor victims, such as the rejected dame, who usually fancies the prince.
A song combining a well-known tune with different words.
The animal, played by an actor in "animal skin" or animal costume or creature. It is often a pantomime horse or cow, played by two actors in a single costume, one as the head and front legs, the other as the body and back legs.
The good fairy always enters from stage right and the evil villain enters from stage left. In Commedia dell'arte the right side of the stage symbolized Heaven and the left side symbolized Hell.
Sometimes the story villain will squirt members of the audience with water guns or pretend to throw a bucket of "water" at the audience that is actually full of something harmless such as streamers.
Sometimes there is a celebrity guest star
SPRING 2020 PRODUCTION!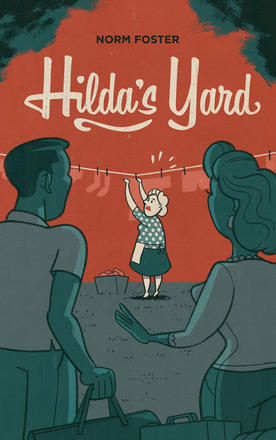 The spring 2020 play will be the comedy Hilda's Yard by Norm Foster, one of Canada's greatest playwrights!
Cast of 6 - looking for 3 men, 3 women. Auditions Oct. 18th and 23rd.
It's an exciting summer day in 1956 for Hilda and Sam Fluck. Newly on their own since their thirty-something children Gary and Janey moved out, they are finally ready to relax. Hilda plans to hang her laundry while Sam goes to buy a shiny new television. What could disturb their simple peace?
Turns out doors are merely decoration as Gary and Janey literally fall over the fence into the backyard, looking for help out of sticky situations. Gary has lost his job, is enamoured with his new girlfriend, Bobbi, and running from a bookie named Beverly, while the ever-dependent Janey has unexpectedly left her husband.
The family careens into an afternoon of calamity, showing them that ultimately they must celebrate how they can be together rather than apart.
Norm Foster's heart-warming and relatable family comedy proves that there will always be a significant weight to an empty nest.