Upcoming Productions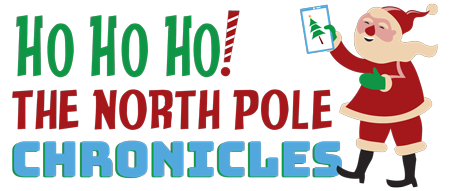 A VIRTUAL CHRISTMAS CELEBRATION!
Ho, Ho, Ho! Join the host of The North Pole Chronicles for this special online show that reveals many behind-the-scenes secrets about Santa's operations at the North Pole. We start with a press conference to answer the press's questions about the jolly guy, then meet the elves who care for the reindeer and the elves who work the gift suggestion hotline. But the biggest mystery is where Mrs. Claus has disappeared to. Find out in a surprising ending that will leave a smile on everyone's face.

This highly flexible virtual show is just the stocking stuffer needed to put audiences in the holiday mood and plenty of small roles gives everyone their moment in the spotlight.
FRIDAY, DEC. 11TH AT 7:00 P.M.
SATURDAY, DEC. 12TH AT 7:00 P.M.
LIVE VIA ZOOM!
We need volunteers: ushers, ticket takers, elevator operator, 50/50 draw etc. Great way to see a show for free!
* GIFT CERTIFICATES AVAILABLE FOR ALL OUR SHOWS *
We are finalizing details with regards to the rescheduling of the show - stay tuned!
HILDA'S YARD
by Canadian playwright, Norm Foster
new tentative dates: April 24, 25th, 26th
and April 30th, May, 1st May 2nd, 2021
It's an exciting summer day in 1956 for Hilda and Sam Fluck. Newly on their own since their thirty-something children Gary and Janey moved out, they are finally ready to relax. Hilda plans to hang her laundry while Sam goes to buy a shiny new television. What could disturb their simple peace?
Turns out doors are merely decoration as Gary and others literally fall over the fence into the backyard, looking for help out of sticky situations. Gary has lost his job, is enamoured with his new girlfriend, Bobbi, and running from a bookie named Beverly, while the ever-dependent Janey has unexpectedly left her husband. The family careens into an afternoon of calamity, showing them that ultimately they must celebrate how they can be together rather than apart.
Norm Foster's heart-warming and relatable family comedy proves that there will always be a significant weight to an empty nest.
LITTLE RED RIDING HOOD HAS BEEN RESCHEDULED TO DECEMBER 10TH, 11TH, 12TH, 2021
MAMMA MIA HAS BEEN RESCHEDULED TO APRIL 29TH, 30TH, MAY 1ST AND
MAY 6TH, 7TH, 8TH, 2022