Upcoming Productions
We need volunteers: ushers, 50/50 draw sellers, ticket takers, elevator operator, etc. Great way to see a show for free!
* GIFT CERTIFICATES AVAILABLE FOR ALL OUR SHOWS *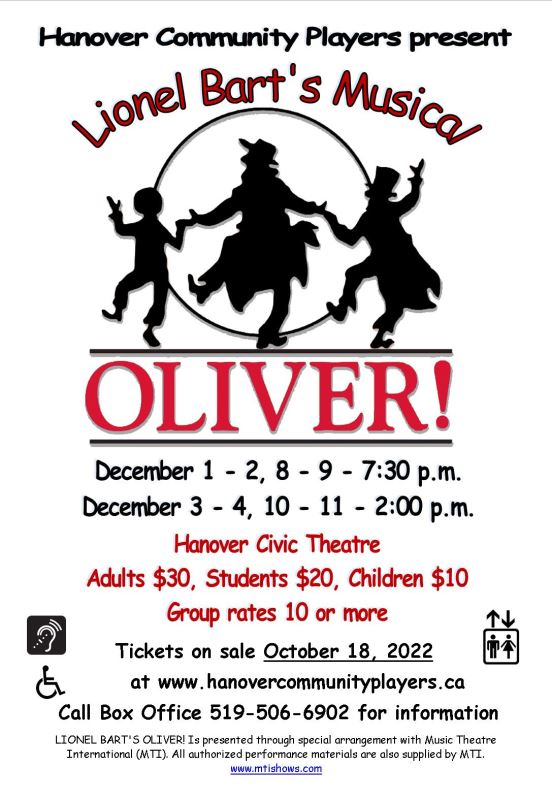 Lionel Bart's OLIVER! takes audiences on a wild adventure. Join young,orphaned Oliver Twist as he navigates the city's underworld of theft and violence, searching for a home, a family, and - most importantly - for love. When Oliver is picked up on the street by a boy named the Artful Dodger, he is welcomed into a gang of child pickpockets led by the conniving, but charismatic, Fagin. When Oliver is falsely accused of a theft he didn't commit, he is rescued by a kind and wealthy gentleman, to the dismay of Fagin's violent sidekick, Bill Sikes. Caught in the middle is the warm-hearted Nancy, who is trapped under Bill's thumb, but desperate to help Oliver, with tragic results. With spirited, timeless songs like "As Long as He Needs Me," "Food, Glorious Food," and "Where Is Love," Oliver! is a musical classic.
Spring 2023 Mom's Gift by Phil Olson
Hanover Civic Theatre
April 28, 29, 30 and May 5, 6, 7 2023
"With a touch of Gilmore Girls, a splash of This is Us, and a healthy dose of Ghost, this comedy-drama will have you laughing, cheering, tearing up and guessing till the very end," noted one reviewer of Mom's Gift.
Described as "a comedy with a heart," the play concerns a deceased mom whose ghost shows up to take care of unfinished business on Earth as a ghost, before she can enter heaven. Like Clarence in It's A Wonderful Life, she must accomplish a task to earn her wings. What the task is, is a mystery.

The problem is complicated by the fact that the only person who can hear or see Mom is her daughter, who has been ordered by the court to spend Dad's birthday with him as part of her Anger Management Program. One by one, the family's secrets are peeled away. revealing a shocking truth that surprises even our ghost.