Upcoming Auditions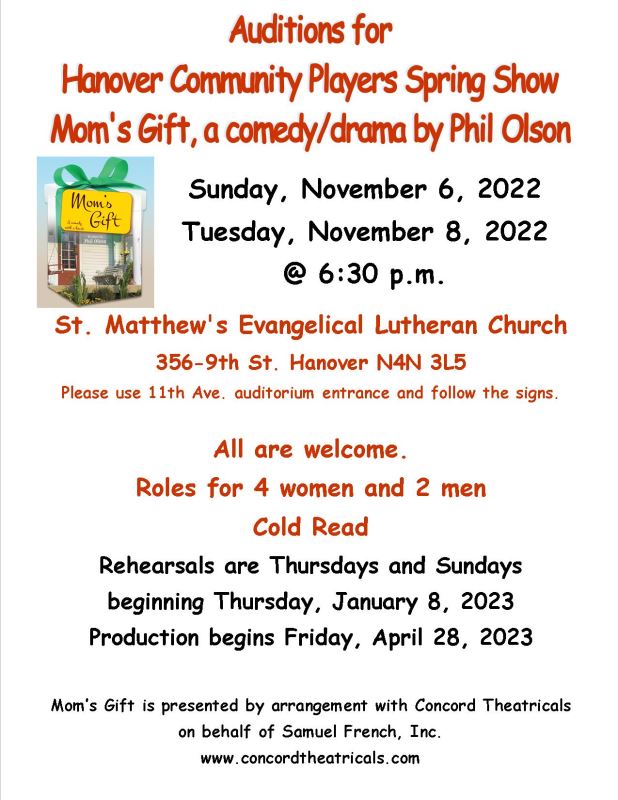 "With a touch of Gilmore Girls, a splash of This is Us, and a healthy dose of Ghost, this comedy-drama will have you laughing, cheering, tearing up and guessing till the very end," noted one reviewer of Mom's Gift
Described as "a comedy with a heart," the play concerns a deceased mom whose ghost shows up to take care of unfinished business on Earth as a ghost, before she can enter heaven. Like Clarence in It's A Wonderful Life, she must accomplish a task to earn her wings. What the task is, is a mystery.

The problem is complicated by the fact that the only person who can hear or see Mom is her daughter, who has been ordered by the court to spend Dad's birthday with him as part of her Anger Management Program. One by one, the family's secrets are peeled away. revealing a shocking truth that surprises even our ghost.
Director Marg Poste says the play offers actors an opportunity to really develop their characters with depth and feeling. There are roles for 4 women and 2 men.
KAT – about 30, the older sister. Plain, extremely smart. Acerbic but likeable, with a sense of humour. Vulnerable and sympathetic. Playfully sarcastic. Not mean-spirited.
MOM – about 60. Good sense of humour. Deeply caring. Football fan.
DAD – 60. A doctor. Nice guy. Reserved. Holds his cards close to the vest.
BRITTNEY – about 22, the younger sister. Pretty. A Hooters Girl, peppy, ditzy, sincere, genuine, not sarcastic
TRISH – about 45. Pretty, a nurse, kind.
KEVIN – about 30, neighbour growing up. Good looking, successful business person, jock in high school.
*MRS. NORQUIST – (voice –over) 70's, neighbour, has lots to say about life
Auditions: Sunday Nov. 6th at 6:30 p.m. or Tuesday Nov. 8th at 6:30 p.m.
St. Matthew's Evangelical Lutheran Church, Hanover. 356-9th St. Please use 11th Avenue auditorium entrance and follow the signs.
All are welcome to try out. Cold read but lots of time to try different characters. Rehearsals start in January, Sundays and Thursdays.
Production: Fri. April 28th – 30th and Fri. May 5th – 7th. 2023.